Zoroastrian Centre for Europe:
Cinema 1936 by F E Bromige. Mass concrete and brick; flat asphalt roof. Tall triple- bowed concrete frontage with very wide central bowed projection: convex flanking concave metal windows rise to full-height within. Flat and bowed concrete canopy across front and above entrance doors. Rising upwards from the entrance canopy is a great concrete feature in the shape of a stylised elephant's trunk, with the curved "head" projecting in front of and above the bowed parapet. Interior: oval-shaped entrance foyer, with steps and railings to sunken tea-room in centre which has cigar-shaped coved plaster ceiling. Auditorium has concrete horizontal fluted gallery front and inward-curving walls; it is dominated by a fibrous plaster ceiling with deep coved ribs driving forward and downward to proscenium arch which is flanked by fluted side columns. A remarkably individual cinema design, and noted as the least altered late 1930s streamlined "art deco" cinema. Historic England Hertigae listing description:
https://historicengland.org.uk/listing/the-list/list-entry/1079729?section=official-list-entry
Timeline:
1936 - The Grosvenor Cinema was built by the local firm of T F Nash Ltd and opened to the public on 12 October.
1937 - The cinema became part of Oscar Deutsch's Odeon cinema chain.
1941 - Renamed Odeon
1950 - Renamed the Gaumont, (the Gaumont chain was now part of the Rank Organisation as was the Odeon chain).
1964 - Reverted to the Odeon name.
1981 - Given grade-II listed status
1981 - Reopened as an independent operator the renamed Ace Cinema.
1984 - Given Grade-II* listed status.
1986 - Final closure as a cinema.
1990 - Converted into the Grosvenor Cine/Bar Experience nightclub, later becoming the Studio Warehouse nightclub.
Mid 1990's - closed as a nightclub.
2000 - The building was purchased by Zoroastrian Trust Funds, who restored and renovated the cinema as a place of worship.
Images as a Cinema: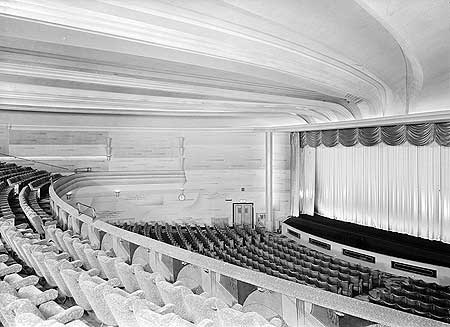 Images as place of worship: